About Oak & Ink Title
Oak & Ink Land & Title is a full-service title and real estate settlement provider dedicated to providing clients exceptional title, escrow and real estate closing solutions.
Our experienced title advocates have successfully closed thousands of transactions. Whether it's a residential home, investment property, commercial building, vacant land, or a 1031 Exchange, our title gurus have you covered. We will ensure the closing process is handled properly and professionally.
Christina Williams, Licensed Title Agent/Owner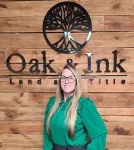 Christina is a Licensed Title Agent and the Owner of Oak & Ink Land and Title, LLC. In the title business since 2003, she brings over 20 years of title experience to the industry. She is a strong believer in the saying "It's the little things that make a big difference." Her compassion for people and the importance she places on every transaction, makes her one of the best in the title industry. She is experienced in residential resales, new construction, residential mortgage, vacant land and commercial transactions. Christina has the knowledge and experience needed to successfully close any real estate transaction, making her an invaluable asset to her clients.
When she's not at work, you'll find Christina on the water enjoying boating and fishing with her loving family or reading a book.
Shana Williams, Escrow Closer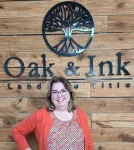 Shana is the Escrow Closer at Oak & Ink Land and Title, LLC. She is a native Floridian, living in the Tampa Bay area until recently relocating to Punta Gorda. With years of experience in technical document coordination, office management and Property & Casualty insurance, Shana combines her expertise and customer service skills to serve and build great relationships with her clients.
Shana has been married to her husband, Rick, for 22 years. They have a blended family that includes 10 wonderful grandchildren. When not working, Shana enjoys reading and spending time with her family (especially the grandkids!). She is looking forward to exploring her new hometown and meeting new people.
Jonathan Williams, Founding Partner and Director of Client Relationships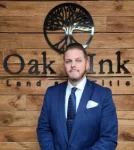 Jonathan is the Founding Partner and Director of Client Relationships for Oak & Ink Land and Title, LLC. He retired from the Hillsborough County Sheriff's Office after 20 years of service to pursue his passion for real estate and getting to know people to help in the development of their career success.
If he's not at work, you'll find Jonathan enjoying the outdoors with his wonderful family. He enjoys boating, fishing and sports.
Rebecca Butler, Licensed Title Agent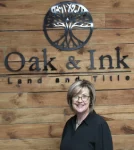 Rebecca is a licensed title agent with 4 years of experience in the title industry. When the pandemic occurred, she left her career in medical sales to pursue her love of Real Estate and title. She loves people and enjoys going the extra mile for her clients. Rebecca relocated to Florida from Ohio 17 years ago and can't imagine living anywhere else. In her spare time, Rebecca enjoys the beach, her animals and just spending quality time with her family.
Gabby BiJou, Office Admin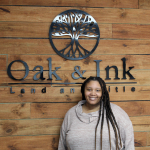 I moved down to Florida when I was a little girl. I am originally from Marietta Georgia and love calling Florida my home. I am an early graduate of Charlotte High School and currently attending college to pursue my communications degree. I am new to title work and absolutely love it! Experiencing the enjoyment of our customers and providing a kind and caring atmosphere is what drives me here at Oak & Ink Land and Title.  I can't wait to see what title has in store for me in the future. When I am not at work, I am making new memories with my family and friends.
Join Our Team
We are always looking for great people. Please contact us or submit your résumé and your desired position(s) on our contact form.